The Importance of Dental Exams
Having annual dental evaluations you take an active stand to ensure the health of your smile. A comprehensive oral exam at DentalWorks - Hyperlingo assesses dental caries, gum disease, oral cancer, and numerous other problems that may be affecting your oral and overall health. Often conducted at biannual dental cleaning visits, comprehensive exams Dr. Dentist Two study the teeth, gum line, arch alignment, jaw joints, and various other oral structures and can ensure immediate detection and care of dental problems. If you want to keep up with the wellness and appearance of your mouth, set up a thorough dental examination at our City, ST facility!
Reportedly, 50,000 Americans are diagnosed with oral cancer every year; however, the disease can be very manageable when identified promptly. Oral cancer is characterized as an irregular growth of cells that can take place anywhere inside of or around the, like on the, face, tongue, saliva glands, jawbone, or the throat, as well as various other oral regions. carries out an oral cancer evaluation at each comprehensive exam to search for nonmalignant tumors, cancerous cells, or other abnormal developments. A few of the most common signs of oral pathology include abscesses, bumps, elevated or bumpy lesions, and inflamed or pale patches of skin. Certain spots of concern can be taken out and biopsied, or you may be sent to an oncologist for more intense care.
Reviews
"Dr. Venerable and his staff are amazing!"
- A.A. /
Google /
May 29, 2020
"We have been so happy to find Stone Creek dental! Dental hygienists are very thorough and very personable. Dr. Luna is a tremendous doctor and very personable. We recommend him and his staff to everyone."
- M.M. /
Google /
Feb 14, 2020
"I highly recommend this facility! I have been to 2 other dentist's offices in tx and this was by far the best. I was heading to work and began to have excruciating pain at a site that was previously treated elsewhere. My "home dentist" was unavailable so they sent me here. I was treated promptly and every member of the staff including the manager Tara showed concern and desired to help. They were patient while explaining what was going on and Dr. Hayes did not make me feel rushed at all. Literally everyone was amazing. I don't know how I would have gotten through the day without them. I HATE going to the dentist so they made sure I was comfortable. This was a clean and very friendly professional environment. Bravo Stone Creek!"
- T.B. /
Google /
Feb 14, 2020
"This place deserves 5 STARS!!As soon as you walk in the door you're greeted by name and with a smile. If there's any paperwork to fill out, the receptionist will make sure you are aware and will give you the forms you need.The hygienists are very sweet and make you feel comfortable during your cleaning. I know it can be awkward when someone try's to talk to you while they clean your teeth... not to worry, because these girls make it easy and fun!Dr. Hayes has been my dentist for over a year now and has been nothing but FABULOUS! He always makes sure to explain the treatment options to me and the reason as to why one might be recommended. I never feel as though I'm being ripped off unlike many other dental offices I've been to in the past. I know at Stone Creek, my health and a beautiful smile are truly what this staff cares about.After my exam, the front desk checks me out and answers any questions I might have. If you're looking for a dentist, trust me, go with Stone Creek Dental!"
- S.W. /
Google /
Dec 14, 2019
"Been going there for 12 years, will continue to go!"
- A.G. /
Google /
Nov 15, 2019
Previous
Next
Who Should Get Dental Exams?
City, ST individuals of any age would benefit from receiving dental checkups a minimum of one time annually for comprehensive care. Dental exams should also be conducted when necessary to assess oral discomfort, trauma, or various other concerns that may develop between cleanings. Gum diseasethe primary cause of tooth loss and decay might not cause serious symptoms to develop until the more progressed stages. When dental issues are identified promptly, we can often offer less intensive services for treatment.
The () all infants and toddlers see their dentist before they are a year old. To help children at a young age, our staff can address common problemslike the eruption of new teeth and thumb-sucking and lead you in cleaning your child's teeth and gum tissues as their oral structures evolve. Regular thorough dental exams might help your children establish great oral habits from the beginning and allow them to attain glowing smiles for many years.
What To Expect During Your Visit
Yearly exams at our City, ST practice open with a review of your health record. We can also review any oral issues or aesthetic smile likes/dislikes you have to learn more regarding your overall dental health. During certain yearly checkups, a set of detailed x-rays might be performed to provide greater insight into the health of your teeth and bone tissues. They may then conduct a screening for cancer of the mouth, check the evenness of your arches and temporomandibular joints, and assess your teeth for decay, as well as the wear of any dental restorations. A screening may also be carried out to discover existing symptoms of disease.
Developing optimal dental wellness routinesincluding meticulous brushing two times per day, as well as flossing at least one time a day may help to minimize your risk for getting cavities and gum disease. carries out regular dental exams at least one time every year, frequently at one of a patient's biannual teeth cleaning checkups, but could arrange exams more frequently for patients who have specific dental wellness diseases. Our practice carries out a diverse range of comprehensive solutions, including state-of-the-art dental fillings, crowns, and porcelain veneers, to help meet your personal smile goals. If beneficial, our team may help you schedule follow-up appointments.
Insurance Coverage for Exams
Oral evaluations are considered general care solutions; this means that they are frequently covered by dental insurance programs. Prior to your checkup, a member of our staff will look over your individual plan and contact you with any possible out-of-pocket costs. DentalWorks - Hyperlingo is excited to accept many simple payment options to help assure that men, women, and their families can obtain high-quality, accessible care.
Why does my tooth hurt?
Toothaches are caused by a number of issues. The most common cause, cavities, or tooth decay, create a painful environment around or inside the affected tooth. Some patients may have an abscess, or an infection of the tooth root, which can cause excruciating pain.
How long should I wait to see a dentist if my tooth hurts?
A toothache typically develops from an infection or damage somewhere inside or around a tooth. Treating tooth pain with pain-relieving medication might provide temporary relief. We recommend seeing the dentist if your toothache lasts longer than a day, because your condition can worsen if left untreated.
How is a toothache treated?
After an examination, the dentist may take x-rays to further decipher the cause of your toothache. Once a diagnosis is reached, a treatment plan will be prescribed to address the toothache. These treatments may include antibiotics and fillings to more in-depth procedures, like a root canal or tooth extraction.
How can I prevent a toothache?
The best way to prevent a toothache is by maintaining good oral hygiene practices. Brush your teeth gently twice a day with a fluoride toothpaste and floss at least once a day. If you play sports, consider wearing a mouth guard. And don't forget to schedule regular dental exams and cleanings twice a year.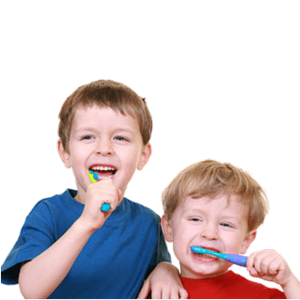 Protect Your Smile With Preventive Care
Attaining a healthy smile requires more work than only seeing your dentist if you notice an issue. Regular dental exams at DentalWorks - Hyperlingo create a path for prompt diagnosis and care for dental issues and are crucial in preserving your smile. Schedule your family's yearly oral exams with Dr. Dentist Two at our City, ST facility soon!
Related Procedures
Related Posts