Dentistry for Children, Teens, and Adults
Achieving is important at every period of life, including a person's early years to the late adult years. DentalWorks - Hyperlingo provides a wide range of general family dentistry procedures to you and your loved ones see the perks of exceptional oral wellness at. If your family members require pediatric dentistry, restorative treatments, cosmetic dental procedures, or later-life care, our office offers exceptional care you can rely on. During your family's dental exams, Dr. Dentist Two will assess their teeth, gumline, and jaw to identify any hidden symptoms that could be harming their smiles. They can then go over the optimal techniques to treat their personal oral problems. Call our City, ST practice soon to schedule oral assessments or twice-yearly dental cleanings for every member of your family.
Reviews
"Dr. Venerable and his staff are amazing!"
- A.A. /
Google /
May 29, 2020
"We have been so happy to find Stone Creek dental! Dental hygienists are very thorough and very personable. Dr. Luna is a tremendous doctor and very personable. We recommend him and his staff to everyone."
- M.M. /
Google /
Feb 14, 2020
"I highly recommend this facility! I have been to 2 other dentist's offices in tx and this was by far the best. I was heading to work and began to have excruciating pain at a site that was previously treated elsewhere. My "home dentist" was unavailable so they sent me here. I was treated promptly and every member of the staff including the manager Tara showed concern and desired to help. They were patient while explaining what was going on and Dr. Hayes did not make me feel rushed at all. Literally everyone was amazing. I don't know how I would have gotten through the day without them. I HATE going to the dentist so they made sure I was comfortable. This was a clean and very friendly professional environment. Bravo Stone Creek!"
- T.B. /
Google /
Feb 14, 2020
"This place deserves 5 STARS!!As soon as you walk in the door you're greeted by name and with a smile. If there's any paperwork to fill out, the receptionist will make sure you are aware and will give you the forms you need.The hygienists are very sweet and make you feel comfortable during your cleaning. I know it can be awkward when someone try's to talk to you while they clean your teeth... not to worry, because these girls make it easy and fun!Dr. Hayes has been my dentist for over a year now and has been nothing but FABULOUS! He always makes sure to explain the treatment options to me and the reason as to why one might be recommended. I never feel as though I'm being ripped off unlike many other dental offices I've been to in the past. I know at Stone Creek, my health and a beautiful smile are truly what this staff cares about.After my exam, the front desk checks me out and answers any questions I might have. If you're looking for a dentist, trust me, go with Stone Creek Dental!"
- S.W. /
Google /
Dec 14, 2019
"Been going there for 12 years, will continue to go!"
- A.G. /
Google /
Nov 15, 2019
Previous
Next
Candidates for Family Dentistry
Patients in each phase of life should have professional dental cleanings and checkups approximately twice per year, or more if they notice any minor or serious pain or recent or prolonged issues. parents or guardians their children go to their initial oral checkup prior to turning one, as advocated by the (). In cases where dental problemsincluding gum disease and tooth decay are diagnosed early, less-invasive therapies will typically be more effective. At DentalWorks - Hyperlingo, we are happy to provide several family dentistry services for patients of all ages and parts of life, such as toddlers, children, teens, adults, pregnant women, and geriatric patients.
What to Expect During Your Visit
Normal dental visits should typically comprise an exam and a thorough teeth cleaning. During your annual exams, our team will look for tooth decay, gum disease, jaw problems, and any indications of other abnormalities. We will then discuss some potential treatment options. Our numerous family dentistry procedures are intended to address a large variety of demands, from general oral options, like dental sealants, to tooth-colored fillings and dental implants. Dental-treatment requirements vary throughout a person's younger, adolescent, adult, and elderly stages of life. has an extensive awareness of the oral wellness issues that occur throughout these periods and will speak with your relatives to help every one of you have the benefits of a clean smile.
Maintain Your Oral Health
Toward the end of every annual appointment, and our staff will help you form a customized treatment plan to boost and preserve your family's dental health. An important to your dental wellness is to develop a proper oral cleaning routine between visits that comprises precise toothbrushing and flossing every day. A professional on our team will show you proper brushing and flossing methods and provide you with advice about addressing areas that might demand extra attention. Annual appointments at DentalWorks - Hyperlingo our staff take care of your family's dental health and notice early-stage dental disorders before they grow into more serious concerns.
Insurance Coverage for Family Dentistry
The majority of family dental services are paid for by insurance. To figure out your coverage, our front office personnel will assess your personal plan and give you an estimate of your leftover charges. DentalWorks - Hyperlingo sets out to make oral services affordable for every patient and accepts a range of payment options, including low-interest dental financing.
What is a cavity?
Cavities begin as decay caused by bacteria in the mouth left by sugar-filled drinks and food, poor oral hygiene, or not visiting your dentist on a regular basis. These factors create a small hole, or cavity, in the enamel of the tooth. If left untreated, this small hole can turn into a big problem.
What causes cavities?
Harmful bacteria in the mouth, usually left by sugary drinks and foods, turn into a substance called plaque when not removed in a timely manner. The acid in the plaque erodes the tooth, weakening it, and causing a hole, or cavity in the enamel.
Factors that raise the chance of developing a cavity include:
Not brushing and flossing your teeth twice a day

Not visiting your dentist for an exam and cleaning twice a year

Tooth shape

A high gumline

Dry mouth

Consuming excessive sugar (soda, candy, juices)
What are the symptoms of a cavity?
The symptoms of cavities vary depending on how large the cavity is and where it is located. The symptoms of a cavity include:
A toothache or pain in the tooth

Sensitivity in the tooth to hot or cold temperatures

Mild to sharp pain when eating or drinking

Visible holes in the tooth

Stains that are brown, black, or white in color on the tooth's surface

Pain when you bite down
How are cavities treated?
A cavity is usually removed from the tooth and the resulting hole is protected with a filling. If the cavity is too large for a filling, you may need an alternative treatment such as a dental crown, custom onlay, inlay, or root canal. If you do get cavities frequently, ask your dentist about preventive options such as fluoride treatments and dental sealants.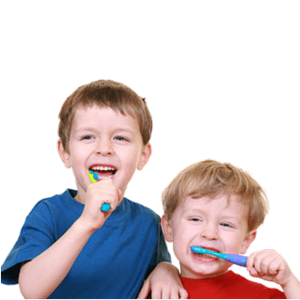 Quality Care For Your Family's Smiles
Defending your family's teeth against harmful dental conditions is vital at each period of life. At DentalWorks - Hyperlingo, our staff is thrilled to perform individualized, efficient procedures to boost the dental health of infants, adolescents, and adults of all ages. Discover the advantages of family oral care by scheduling a visit with Dr. Dentist Two at our City, ST practice today.
Related Procedures
Related Posts