Commonly a component in general oral care routines, fluoride is a beneficial substance found in some foods and liquids. However, it is often onto the tooth enamel to produce additional oral advantages. Fluoride can protect against decay by the teeth more resilient to toxins. Fluoride can additionally improve the tooth's framework to reduce the first phases of dental decay. Cities that put fluoride in water reserves typically have fewer instances of cavities between their residents. These benefits of fluoride have been acknowledged by the () and additional notable societies. At DentalWorks - Hyperlingo, we proudly perform routine fluoride treatments for adults and children of all age groups. To learn more on how fluoride can benefit your oral wellness, contact us for a consultation with Dr. Dentist Two in City, ST.
Reviews
"Dr. Venerable and his staff are amazing!"
- A.A. /
Google /
May 29, 2020
"We have been so happy to find Stone Creek dental! Dental hygienists are very thorough and very personable. Dr. Luna is a tremendous doctor and very personable. We recommend him and his staff to everyone."
- M.M. /
Google /
Feb 14, 2020
"I highly recommend this facility! I have been to 2 other dentist's offices in tx and this was by far the best. I was heading to work and began to have excruciating pain at a site that was previously treated elsewhere. My "home dentist" was unavailable so they sent me here. I was treated promptly and every member of the staff including the manager Tara showed concern and desired to help. They were patient while explaining what was going on and Dr. Hayes did not make me feel rushed at all. Literally everyone was amazing. I don't know how I would have gotten through the day without them. I HATE going to the dentist so they made sure I was comfortable. This was a clean and very friendly professional environment. Bravo Stone Creek!"
- T.B. /
Google /
Feb 14, 2020
"This place deserves 5 STARS!!As soon as you walk in the door you're greeted by name and with a smile. If there's any paperwork to fill out, the receptionist will make sure you are aware and will give you the forms you need.The hygienists are very sweet and make you feel comfortable during your cleaning. I know it can be awkward when someone try's to talk to you while they clean your teeth... not to worry, because these girls make it easy and fun!Dr. Hayes has been my dentist for over a year now and has been nothing but FABULOUS! He always makes sure to explain the treatment options to me and the reason as to why one might be recommended. I never feel as though I'm being ripped off unlike many other dental offices I've been to in the past. I know at Stone Creek, my health and a beautiful smile are truly what this staff cares about.After my exam, the front desk checks me out and answers any questions I might have. If you're looking for a dentist, trust me, go with Stone Creek Dental!"
- S.W. /
Google /
Dec 14, 2019
"Been going there for 12 years, will continue to go!"
- A.G. /
Google /
Nov 15, 2019
Previous
Next
Ideal Candidates for Fluoride Treatments
Younger individuals, adolescents, and adults could all be ideal candidates for painted-on fluoride treatments. This mineral might help protect against decay in younger patients with baby teeth or adults who are less resistant to cavities. City, ST people who do not drink fluoridated water might additionally profit from fluoride treatments. may perform fluoride applications for individuals who are at an increased chance for cavities, like patients who have metal braces or have (). Fluoride treatments may additionally help to minimize tooth tenderness and protect exposed enamel since it is less resilient to erosion.
What to Expect With Fluoride Treatments
DentalWorks - Hyperlingo provides a mix of fluoride options and flavors to these services enjoyable for all patients. Fluoride treatments are often performed every six months immediately after a thorough cleaning and exam. When your fluoride flavor is chosen, a member of our team will ready the fluoride as either a varnish, foam, gel, or liquid. It will then be kept on the teeth for 1 – 4 minutes, depending on the substance, to give the minerals enough time to absorb into your teeth. To receive the best possible benefits from your treatment, you might need to wait a minimum of 30 minutes before snacking or drinking beverages.
Fluoride Treatment Aftercare
Illness might develop if an amount of fluoride is mistakenly swallowed, but this will fade away roughly 24 hours after your session. In some situations, may prescribe fluoride supplements or medical-grade fluoridated toothpaste to raise your fluoride intake. Because fluoride may be deadly in large quantities, guardians should be sure to keep fluoride toothpastes and rinses off limits to babies and toddlers. Though fluoride services help to safeguard from tooth decay, it is still important to clean the teeth using fluoridated pastes, floss, and rinses daily. We also advise you to attend routine oral assessments and thorough cleanings at DentalWorks - Hyperlingo so can reassess your overall dental health.
Insurance Coverage for Fluoride Treatments
Professional fluoride treatments may be covered by your dental insurance plan. Our facility's insurance specialist can look over your family's insurance benefits and help you get the most out of your policy. If you have out-of-pocket expenses, our staff can go over the various payment options taken at DentalWorks - Hyperlingo or help you apply for dental payment plans.
FAQs About Fluoride Treatment
1. What is fluoride?
Fluoride is a mineral found in the bones and teeth that helps to strengthen enamel. It is used in supplements, toothpaste, mouth rinses, and dental fluoride treatments to improve oral health.
2. What happens during a fluoride treatment?
After a dental exam and routine dental cleaning, the teeth are dried fully to avoid diluting the strength of the fluoride. The treatment is administered by gel, foam, or paint-on varnish that is left on the teeth for a few minutes. Once the treatment is complete, you must be careful to spit out all of the fluoride from the mouth.
3. How often can you have fluoride treatment?
A fluoride treatment is usually given every six months after a dental cleaning and exam. However, it can be recommended more often if a patient has weakened enamel or is prone to cavities.
4. Are there side effects if fluoride is consumed?
While fluoride is naturally-occurring, when consumed in large amounts, it can cause serious health conditions. Dental fluorosis occurs when you consume too much fluoride while your teeth are still forming underneath the gums. This can result in white spots on the tooth's surface. This condition usually affects children under the age of 8 who are the most likely to swallow toothpaste.
5. How long should I wait to eat after a fluoride treatment?
To allow the fluoride to penetrate the enamel, you should not eat, drink, or smoke for at least a half-hour after a fluoride treatment.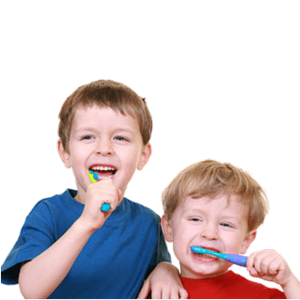 Fight Tooth Decay WIth Fluoride
Enhance the health of your tooth enamel when you schedule ADA recommended fluoride applications at DentalWorks - Hyperlingo. recommends fluoride treatments for kids, young adults, and mature patients to improve the teeth, protect against cavities, and reduce early signs of decay. Contact our practice in City, ST to arrange a routine cleaning paired with a fluoride application or to discover more about this recommended dentistry option.
Related Procedures
Related Posts