What Is Periodontal Disease Treatment?
Many types of oral conditions, such as disease, could potentially affect a patient's total health. Frequently called disease, disease is a gradually worsening dental infection that develops in a large population of Americans annually. A product of harmful oral bacteria, periodontal disease is thought of as a major source of missing teeth among adults and is often connected to many overall health concerns. These bacteria reside within tartar deposits that build up on the teeth and produce toxins that eventually begin to break down the gumline, jawbone, and other structures that hold every tooth in its proper position.
Gum disease is primarily composed of three separate phases. The beginning phase of gum disease is gingivitis, followed by periodontitis. The last and most severe stage of the condition is called advanced periodontitis. Detecting and treating periodontal disease immediately may help halt the deterioration and maintain your health. experience symptoms like sensitive or discolored gum tissue, bleeding while brushing and flossing, or persistent bad breath (sometimes known as halitosis), gum disease may be harming dental health.
Thankfully, Dr. Dentist Two at DentalWorks - Hyperlingo performs several effective procedures to eliminate periodontal disease, no matter the severity. Contact our practice in City, ST soon to plan a twice-yearly routine examination and learn about your solutions to address periodontal disease.
Reviews
"Dr. Venerable and his staff are amazing!"
- A.A. /
Google /
May 29, 2020
"We have been so happy to find Stone Creek dental! Dental hygienists are very thorough and very personable. Dr. Luna is a tremendous doctor and very personable. We recommend him and his staff to everyone."
- M.M. /
Google /
Feb 14, 2020
"I highly recommend this facility! I have been to 2 other dentist's offices in tx and this was by far the best. I was heading to work and began to have excruciating pain at a site that was previously treated elsewhere. My "home dentist" was unavailable so they sent me here. I was treated promptly and every member of the staff including the manager Tara showed concern and desired to help. They were patient while explaining what was going on and Dr. Hayes did not make me feel rushed at all. Literally everyone was amazing. I don't know how I would have gotten through the day without them. I HATE going to the dentist so they made sure I was comfortable. This was a clean and very friendly professional environment. Bravo Stone Creek!"
- T.B. /
Google /
Feb 14, 2020
"This place deserves 5 STARS!!As soon as you walk in the door you're greeted by name and with a smile. If there's any paperwork to fill out, the receptionist will make sure you are aware and will give you the forms you need.The hygienists are very sweet and make you feel comfortable during your cleaning. I know it can be awkward when someone try's to talk to you while they clean your teeth... not to worry, because these girls make it easy and fun!Dr. Hayes has been my dentist for over a year now and has been nothing but FABULOUS! He always makes sure to explain the treatment options to me and the reason as to why one might be recommended. I never feel as though I'm being ripped off unlike many other dental offices I've been to in the past. I know at Stone Creek, my health and a beautiful smile are truly what this staff cares about.After my exam, the front desk checks me out and answers any questions I might have. If you're looking for a dentist, trust me, go with Stone Creek Dental!"
- S.W. /
Google /
Dec 14, 2019
"Been going there for 12 years, will continue to go!"
- A.G. /
Google /
Nov 15, 2019
Previous
Next
Candidates for Periodontal Care
Adults who should seek treatment for periodontal disease those who experience any gum tissue puffiness and bleeding anyone with shifting teeth and severe wear to the nearby oral structures. In situations where periodontal disease is identified and managed promptly, patients have better possibilities to reduce the disorder's damaging effects. Hundreds of patients develop bleeding gums or puffiness, which might be mistaken for normal. Despite this, bleeding and various other signs of gum disease are never typical and should be examined at your earliest convenience by or another professional on their team.
We invite people to arrange an appointment at DentalWorks - Hyperlingo if they observe one or more of the probable effects of gum disease. These symptoms can consist of inflamed, red, or painful gum tissue, as well as bleeding when toothbrushing and flossing. Chronic oral malodor or a lingering taste in someone's mouth can be an indicator too. Men and women suffering from advanced gum disease may end up with shifting teeth, greater pain, a reduced gumline, or pus coming from the gums.
How Is Gum Disease Treated?
Identifying and treating the issue promptly could be vital to preserve the condition of your oral structures. To know if gum disease is impacting your oral wellness, our team will utilize a precise device to assess the spaces between your gumline and tooth roots. If these pockets are bigger than 3 millimeters deep, it is often a cause for concern. 3D x-rays will also help to evaluate the level of jawbone around the teeth and confirm whether a more advanced phase of periodontal disease has set in.
At DentalWorks - Hyperlingo, we utilize comprehensive tests to diagnose your current phase of gum disease and will craft the correct method for care. The starting phase of periodontal diseasegingivitis is commonly taken care of with an in-office cleaning and improved at-home dental hygiene. To treat periodontitis, the middle level of gum disease, (occasionally referred to as) procedures are carried out every 3 – 4 months and coupled with externally administered antibiotics. Advanced-stage cases of periodontal disease may be more effectively treated through a more intensive option, such as osseous surgery and bone grafting treatments.
Periodontal Treatments Follow-Up
Committing to a meticulous dental care regimen is vital after your periodontal disease has been addressed. At your visit, and their staff will give you beneficial advice to elevate your daily toothbrushing methods and take care of your oral health. Our team will then give you any post-treatment information to you bounce back after your procedure smoothly. In-depth maintenance cleanings, which are crucial in you conserve your teeth and gum wellness and in preventing active periodontal disease from developing, are typically advised a few times a year. These treatments at DentalWorks - Hyperlingo act as your twice-yearly dental cleanings.
Is Periodontal Treatment Covered by Insurance?
Dental coverage for periodontal treatment will vary based on your policy. Our business personnel will get in touch with your insurance provider to figure out your coverage before your dentist performs your treatment. 's staff at DentalWorks - Hyperlingo works hard to make dental care as accessible as it can be and welcomes a range of payment methods, including individual patient financing, to any uncovered costs remain comfortably within your budget.
#1: Why is flossing your teeth so important?
Flossing your teeth twice a day helps to prevent tooth decay, or cavities. Regular use of dental floss can also reduce the risk of developing gum, or periodontal disease by removing food particles as well as a sticky substance called plaque that builds up on your teeth.
#2: What is gum/periodontal disease?
Periodontal or gum disease is an infection of the tissues that hold the teeth in place. It is caused by poor brushing and flossing habits that enable a sticky film of bacteria called plaque to build up on the teeth and harden. Periodontal disease can lead to swollen and bleeding gums, issues with chewing, and tooth loss.
#3: What are the symptoms of gum/periodontal disease?
The symptoms of gum disease are not always obvious until it has progressed to a more advanced stage. Consider seeing your dental provider if you suspect that you have any of the following symptoms associated with gum disease:
Swollen, red, or tender gums

Pain in your mouth

Bleeding when brushing or flossing your teeth

Gums have receded or pulled away from your teeth

Pus between your gums and teeth

Mouth sores

Chronic bad breath

Loose or separating teeth

Teeth that no longer fit together when you bite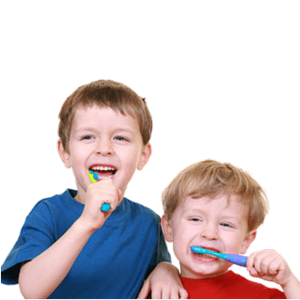 Stop Gum Disease in Its Tracks
Because of our advanced dental care approaches, DentalWorks - Hyperlingo can help patients with gum disease get access to efficient options and regain the wellness of their smile. When you have one or more signs associated with gum disease, we suggest that you call our City, ST practice right away. Cosmetic Dentist Dr. Dentist Two and their team provide many treatments to address any level of gum disease.
Related Procedures
Related Posts